The sunday partner lessons will begin again on September 13th at 5pm.
---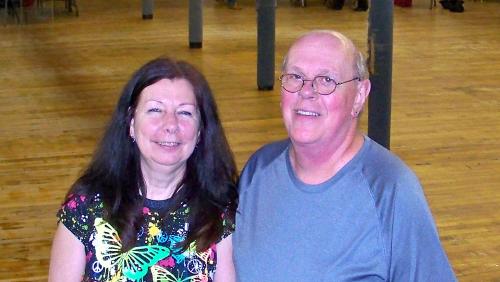 Don Carleton
Don began his dancing career in Loudon,NH at the Loudon Country Hall in the mid-nineties. As part of the learning process he volunteered to be part of the newly formed dance team from Loudon Country Hall called "Ragin' Feet". The team performed demos and eventually competed at various dance events such as "The North East Country/Western Dance Festival" in Danvers Ma. Don became interested in the partner competitions at these events and began working on the fundamentals of Two Step, East Coast and West Coast Swing, Cha Cha, and Waltz. In trying to develop his skills, he competed in Division IV at various UCWDC sanctioned events, eventually competing in Division IV at the Worlds 2000 in Nashville, TN. In a large division with many dancers from around the world, he was able to make the finals in West Coast & East Coast Swing and Cha Cha. Don has taught all levels of line & partner dancing over the last decade. He was the DJ/instructor at the Rockingham Ballroom for several years and currently hosts some Friday night dances and holds Sunday partner lessons at the Mill-A-Round in Manchester, NH. Don also offers line dance lessons at the American Legion in Epping NH.
Dottie Censabella
Dottie began taking line dance lessons with John and Mary Cox at Scooters in 1989 and found a new joy in life. She eventually branched out to the Rockingham Ballroom in Newmarket, NH which led to dancing there on Friday nights and it became her home away from home. That just wasn't enough so she started dancing at the Loudon Country Hall in Loudon, NH on Saturday nights as well. She started doing partner and couples dances with Don and found there's more to dance than just doing lines. She always enjoys helping newer dancers learn and improve their dancing so they, too, can enjoy it as much as she does.